Employees who can work in a clean, healthful office environment take fewer sick days and are more productive. A commercial office cleaning service allows you to concentrate on running your business rather than on daily removing dirt, filth, and other contaminants from your facilities. There are numerous advantages to utilizing expert office cleaning services such as JN Cleaners.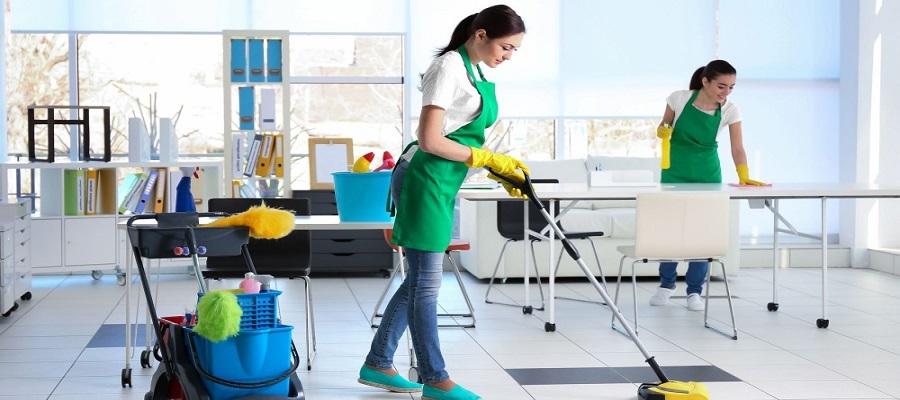 5 Benefits Of Professional Commercial Office Cleaning are:
Healthier work environment
Customers, visitors, and guests will have a better first impression
Less complication
Adapts to your business schedule
Professional and satisfying feel
It is critical to keep your office tidy, clean, and healthy. Aside from duties that are performed in every home, such as dusting, vacuuming, and wiping the floors, any working environment necessitates a variety of particular maintenance tactics. Cleaning the office is not an easy task.
JN Cleaners would like to share some pointers to keep in mind if you search for a clean working environment without any clutter and debris that could distract you from crucial activities.
Here are Useful tips on how to maintain a clean and productive office:
Maintain a clutter-free workspace
Organizing and clearing your desk daily takes little time and effort, but it may greatly boost your productivity. Visual clutter – that is, unneeded material lying around – has been shown in studies to occupy your attention and produce a distraction. Try to organize your papers as soon as possible to avoid having odd mounds on your desk.
A key strategy is to organize all papers into categories and assign each one a specific location. You can mark them in a way that makes them easier to find if you want. After that, it will be much easy to select the out-of-date ones and archive or discard them.
Clean and dust all electronics regularly
Computers and printers are the most commonly used equipment in the office, so keeping them clean and dust-free is critical. Not only may accumulate filth harm that equipment, but it can also attract a variety of pathogens.
Keyboards are especially prone to this because they are in constant contact with your hands while you work – and this might be especially concerning if you eat at your desk. It's a good idea to use disinfectant wipes or solvents on a daily basis to avoid regular exposure to bacteria and viruses. Please, however, ensure that they are compatible with electrical gadgets!
Maintain clean restrooms
A clean restroom is not only much more pleasant to use – but it is also a safety measure. Depending on the size of the office, this area is used by multiple people and should be given extended and thorough attention. Cleaning the toilets frequently, mopping the floors, and wiping the handles with a disinfecting solution are a necessity.
Keep the restrooms clean
A clean restroom is not just more enjoyable to use; it is also a precautionary measure. This space is used by various persons depending on the size of the office and should be given extended and thorough care. Cleaning the toilets on a regular basis, cleaning the floors, and wiping the handles with a disinfectant solution are all required.
Keep the office flooring clean
Your workplace flooring should complement the room in terms of style and use. Hand-scraped hardwood may not be appropriate for a slick, modern office. Natural stone looks great with the correct design, but it may be more expensive than other options. When researching workplace flooring ideas, keep the following materials in mind:
Carpeting or carpet tiles
Hardwood
Laminate
Natural stone
Vinyl
Get rid of trash on a regular basis
Clutter can make life feel chaotic and stressful. You may even realize that working in a congested atmosphere reduces productivity and effectiveness.
In other words, the more people who work in an office, the faster the waste accumulates (both old papers and food leftovers.) Take it out regularly to avoid unwanted odors and debris from spreading. It could be a good idea to take turns and distribute this responsibility among all staff.
Make Good Use of Dividers and Shelves
Dividers can help if you have the habit of dumping objects in drawers and allowing them to get disorganized and disorganized. Hanging shelves can keep binders, manuals, reference materials, and other documents orderly, while drawer dividers keep small office things divided, organized, and easy to find.
Begin arranging your belongings in their respective places.
Put your belongings in their organized places now that you know which ones you want to keep and how near they should be to each other. Keep your desk as nice and clean as possible to assist the rest of the office in appearing clutter-free.
Keep the common spaces clean
A clean common room and kitchen area are unavoidable to promote the morale of all employees. After all, who wants to spend their lunch break surrounded by crumbs and messes on the table? Don't forget to clean the microwave, the fridge and dispose of any leftovers regularly — the latter is especially crucial because expired food is a breeding ground for bacteria.
Maintain Your Books and files Systematically
The books are regular items that are strewn about in your home office. Organizing your books by color, genre, or size according to your preferences will help your office desk look neat and organized. When you organize your books by color choice, you get a clutter-free room, but you also get a more organized space and attractive space.
Make Use of Wall Space
Racks are used to occupy wall space. Walls are one area that is frequently overlooked. People are always looking for more space to organize their belongings, but they never consider using wall space. To make extra floor space, use the vertical space to hang the file system, whiteboards, shelves, calendars, baskets, and other items.
Don't hesitate to get in touch with us soon if you require professional cleaning services in London and surrounding areas. Simply call the Jn Cleaners Cleaning Services on 07587 783838 to book a service, or fill out our online contact form!
CALL US AT 07587 783838! We will look after your office and ensure that you and your coworkers operate in a clean and healthy atmosphere.